Multi-Cloud Security
A Security Solution For Your Cloud Strategy
How we use Cloud Application has changed drastically over the recent years. With acceleration in importance of data there is a shift in the way we store and access data today for business efficiency and ease, cloud based infrastructures and cloud application strategies are the most adopted to maximize business efficiency.
We tend to use various Cloud Applications for Mail, File Storing and Data Transfer. With applications like Gmail, Yahoo, Rediff mail, Google Drive, One Drive and more, employees feel ease in accessing data stored, access mails or to help share data within or out of the organization. However, with this ease of usability, use of such applications leads to a major flaw in Data Security efforts by the Cyber Security team. This is majorly because of the visibility that the Next Generation Firewall cannot provide. The traditional Next Generation Firewall with Layer-7 security firewalls can analyze only the application interfaces, i.e., at the points where the data enters or leaves an application. However, it does not offer any visibility or control over how the applications use this data.
Data Being crucial and a very important asset of any organization, the organization must have visibility on all the transaction involving data in order to protect it and prevent exploitation. Not having visibility has resulted in a lot of data leaks in the past involving both intentional and unintentional actions by an internal user and data breaches involving internal and external actors for financial and non-financial gain.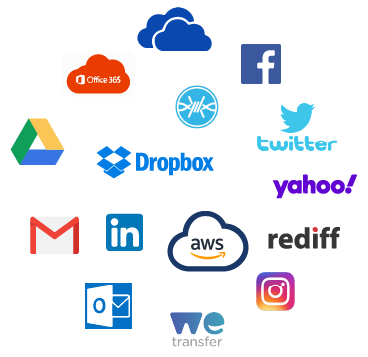 A Data Security Firewall goes beyond application layer visibility and identifies critical data even when it is used on cloud and web based applications. As a result it can prevent data leaks when shared using such tools. Additionally, a data security firewall uses contextual intelligence to gain a deeper understanding of data transactions. By doing so, it can detect the attempts to share critical data outside the organization using such platforms, thereby eliminating the risk of data loss.
Gain Visibility Control and Protection using GajShield Data Security Firewall that uses a combination of GajShield Contextual Intelligence Engine, GajOS Bulwark and GajShield Threat Lab for a 3600 protection.
Features:
Deeper Visibility
Visibility is the key to cyber security and thus having an overview is not enough. Our GajOS Bulwark features advanced reporting for Greater visibility across the network supporting various logs and packet information essential for security. We use information from the Contextual Intelligence Engine and inject valuable information gathered to create contextual information that allows organizations to deep dive into granular details, achieving deeper visibility. With GajShield Advanced Visibility capability extends your visibility across various Mailing, file sharing, File uploading/Downloading, cloud data storage, instant messenger and social media platforms for complete monitoring on these business and non-business applications.
Control Collaborative Applications:
With the capability of the Data Security Firewall to deep dive into contextual data of web applications, the Data Security Firewall allows organizations to set granular data security policies that allows the organizations restrict such collaborative business application to business use only.
Use of Corporate Login on Gmail, Yahoo, Rediff Mail, G-Drive, One-Dive, Social Media platforms like Facebook etc.
Restrict Personal ID Use on these SaaS applications.
Restricting to send mail with absence of reporting manager in CC
View Mode: allowing to access but not able to perform any action.
Prevent data leak from such apps.
Control on sending Mails to IDs other than predefined IDs/Domains
Control of Data Uploads based on file size, type, content and more.
Data Leak Prevention
                A Unique Context Sensitive Data Leak Prevention Solution to protect Data Leak. The Data Leak Prevention Solution identifies, monitors and protects the data in motion on your network through deep content inspection and a contextual security analysis of transactions, Data Leak Prevention systems act as enforcers of data security policies. They provide a centralized management framework designed to detect and prevent the unauthorized use and transmission of your confidential information. Data Leak Prevention protects against mistakes that lead to data leaks and intentional misuse by insiders, as well as external attacks on your information infrastructure.
Advanced Threat Protection
Advance threat protection keep zero-day and advanced threats away from entering an organization's network. The ATP combined with advanced Machine Learning capability, understands and learns usage pattern and finds outlier to identify suspicious traffic for further process by the security engines and preventing zero-day threats and keeping them away from the network. An Intelligent Sandboxing technique that uses machine learning, identifies a malicious file, sandboxes it and traps the malware that are injected even in sleep mode for it to remain in hibernation mode and attack once it stays in the network for a period of time. Our advanced sandboxing simulates clicks and key strokes to capture malware that uses Click and Key inputs to activate such carefully engineered malware.
Secured Connectivity
A multi cloud environment often struggles with a secured way to connect with. Using high-speed VPN and Secured Connectivity methods, we combine intelligence from Contextual Intelligence Engine with security policies, organizations can now interact with Cloud applications and Data centers more securely than ever.