Email Security
Protect Against Latest Email Borne Threats
Email being the primary means of official communication, has become a gateway for threats for a lot of companies. Companies of all sizes face this daunting challenge. While email threats move fast, and malicious files look more like normal files that are often used for communication.
GajShield Email Security enables enterprise users to communicate securely and protects them from latest email-borne threat vectors like ransomware, advance malware, spam, phishing and data leak using its unique Contextual Intelligence engine with multi-layered approach to security.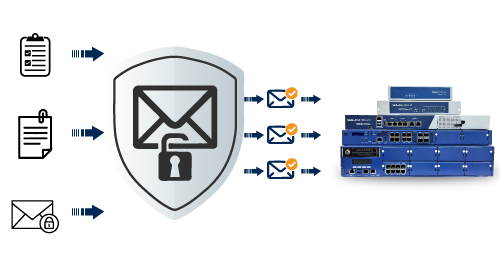 APPROACH
GajShield Threat Lab


Proactive virus detection, Robust and inherent immune system that integrates Zero-Hour (Zero-Day) Virus Outbreak Protection to shield enterprises in the earliest moments of malware outbreaks, and right through as new variants emerge. By proactively scanning the Internet and identifying massive virus outbreaks as soon as they emerge, proactive virus blocking is effective and signature-independent.
At the Threat Lab, a database of real-time spam outbreaks is collected and compiled and maintained, through consultation with global Internet Service Providers. Patterns are analyzed, categorized, and cross-matched using algorithms, run to optimize the detection of repeating patterns and their sources. This database, containing approximately over six million signatures, is continuously updated with more than 30,000 new unique signatures added hourly.
Contextual Intelligence Engine:


All new contextual intelligence engine for ultimate visibility and better security. The Contextual Intelligence Engine helps in creating context of the mail application beyond just the traditional context. It analyses the usage of the application and creates context by deep diving into granular details like: Address of Sender, Address of Recipient, Subject, Mail Content, Attachments, Signature, etc. for better and informed security with advanced visibility of mail services.
Recurrent Pattern Detection:


At the heart of the GajShield's Mail Security is its powerful, Recurrent Pattern Detection, a spam engine that identifies spam patterns regardless of content, format, or language. By immediately detecting new attack patterns, and maintaining a database of spam outbreaks, the RPD engine identifies the quantity and the speed of the distribution of spam.
Network Sandbox:


An Intelligent Network Sandbox solution that has anti-evasion capability for protection against malware that understands and detects a virtual environment. With the ability to sandbox various file types and embedded URLs, our intelligent sandbox inspects content that a traditional signature-based antivirus cannot identify as malicious and categorise accordingly.
HIGHLIGHTS
Global threat intelligence processing over 25 billion transactions daily
Block ransomware, spam, phishing and malware attacks before it reaches your infrastructure
Advanced malware protection using machine learning techniques to model trusted email behaviour
Advanced threat protection using Contextual Intelligence, Recurring Pattern Detection, reputation scoring and file sandboxing
URL-related protection and control using scanning of URLs in emails based on their category and reputation
Combines rapid Domain Message Authentication Reporting and Conformance and forged email detecion using DKIM and SPF to protect against BEC attacks
Protect sensitive data with integrated Data Leak Prevention solution
Seamless integration with GajShield Archiving solution Simple to manage and configure using a Web-based Administration In-depth reporting offers single view for comprehensive insight across your organisation
Simple to manage and configure using a Web-based Administration
In-depth reporting offers a single view for comprehensive insight across your organisation
FEATURES
Multi-layered Protection:
Scrutinises IP, domain of mails
Reputations check and validation
Bounce history, address authentication
DMARC and DKIM checks
Analyse message and content structure
Analyse Image, Digital signature, keywords in context
Scan embedded URIs
Categorizing
Data Leak Prevention:
Deep packet analysis
Restrict content sharing
Easy policy implementation
Unique group mailing policies
Protect critical data
Gateway Anti-Malware
Powerful and Real-Time protection from Virus outbreaks
Scans HTTP, HTTPS, FTP, POP3, SMTP & SMTPS traffic
Detects and removes viruses, worms and all kinds of malware.
Instant identification of virus-infected users
ZERO Hour Virus protection
Spyware, Malware, Phishing protection
Automatic real-time Virus update
Complete protection of traffic over all protocols
Last virus update definition
Complete report
Advanced Threat Protection:
Advanced Email Protection.
Anti-Virus.
Anti-Spam
Advanced Intelligent Sandboxing.
Complete Mail Analysis
Deep Mail Inspection
Gateway Anti-Spam
Scans SMTP, POP3 traffic for spam
Detects, tags or quarantines spam mail
Content-agnostic spam protection including Image-spam.
Preemptively stops sophisticated threats like phishing, pharming, zombie attacks & supports
RBL lists
Enforces black and white lists
Real-Time protection from emerging threats
Language, content, format & signature independent spam prevention
Detects phishing URL in emails
Quarantine Spam Mails
Mail Archiving