BYOD
A Solution to Monitor and Control Devices Brought and used by Employee
BYOD is increasingly becoming more popular, not just nationally but also globally. A recent survey has indicated that about 28% of the global workforce used personal devices for official purposes and the mobile workforce worldwide is expected to rise from the current 1.45 billion to 1.87 billion by 2022. With such a remarkably increasing popularity of the Bring Your Own Device (BYOD) program, it becomes an organization's responsibility to manage the various multifarious devices that the employees perform their work related tasks through and at the same time protect the data from being compromised. GajShield's BYOD management gives the enterprises a complete solution by providing them with the ability to set policies and restrictions to keep the data safe and seamless.
The rise in the occurrence of data leaks can be, in part, attributed to the propagation of enterprise mobility and the Bring Your Own Device (BYOD) culture, without due attention directed towards the associated data and cybersecurity risks that emerge. Businesses, in an attempt to increase employee productivity and to save on heavy infrastructure costs, are encouraging employees to use their personal devices for work. As a result, it is becoming harder for the enterprise cybersecurity team to monitor every device and implement a uniform data security policy across all devices. This results in users using their devices to share information outside the organization accidentally. Even if an enterprise uses email security to prevent employees from leaking information, users can use other applications using their personal devices to share information.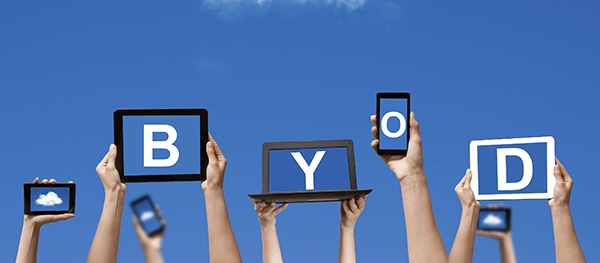 Using a Data Security Firewall solution with BYOD protection can ensure that data security policies are applied to all devices, regardless of differences in their manufacturers or operating systems. It prevents users from sharing confidential data to those outside the organization. Using a BYOD security system also prevents suspicious and risky applications from running and leaking critical enterprise data without the knowledge of users. 
GajShield's BYOD Policy works effectively on its Data Security Firewall series. GajShield's BYOD feature aims to enhance the UserSense engine in the popular DC and NU Series to inspect, detect and monitor the traffic and control the devices being used by employees. BYOD management is able to identify the end point including whether it is coming from a mobile device or a desktop. This information greatly helps the enterprises to set up different BYOD policies limiting the access to internet or mobile applications as per their requirements.
It often happens that employees are allowed to bring in devices which are not controlled by the enterprise. Many of these devices have varied Operating Systems like Android, iOS, Windows, etc. and the chances of malicious apps been downloaded on these devices is very high. These devices can compromise the enterprise network with unaccounted traffic. In order to overcome this issue, GajShield's Data Security Firewall.
Uses and Object-Oriented Policy security management that allows enterprises to take various steps to step up the security of their system.
Enterprises can block access to critical servers in DMZ to BYOD devices, they would be able to setup Data Leak Prevention solution and apply data security policies that would help them to monitor and block all data uploads from these devices, furthermore, risky applications with possible data leak threats could be easily blocked
GajShield also helps enterprises to set up policies to limit access to the internet (based on time) from these devices and control and limit the bandwidth used by these devices. All the BYOD devices can be redirected to non-critical internet links so that the business applications are not affected.
By incorporating these security features, enterprises can avail the advantages of lesser investments in hardware as employees would bring in their own devices and GajShield's BYOD would ensure security as well. For employees, it is a win-win situation as well as it provides them with flexibility and technology familiarity as employees tend to be familiar with their own devices.
KEY FEATURES:
Block access to critical servers in DMZ to BYOD devices
Setup Data Leak Prevention policies which monitor and block all upload from these BYOD devices
Block risky applications which can lead to data leak from BYOD devices
Setup policies to limit access to internet from these devices
Control and limit the bandwidth used by these devices
Control and limit unauthorised access
Limit access to internet based on time. (Education institutes do not want students to have access to internet during class hours)
Redirect the BYOD devices to non-critical internet link so business applications are not affected
Individual user wise report based on BYOD devices.